Sustainable Kosher Meat Discount
10% off your first order! Scroll down for details!
Consumers have the opportunity to support farmers at the forefront of upholding higher standards of animal welfare and environmental protection in production.
This meat is priced higher than what you would normally find in your grocery store. This reason for the increase is based on what environmentalists call "the externalities": the cost of preventing all the harm that is associated with factory farming, such as animal suffering and air, water, and soil pollution.
These externalities are completely unaccounted for in the widespread corporate-industrial model of factory farming. Purchasing these industrial products perpetuates a cruel and environmentally harmful system.
"Higher welfare" meat comes from animals that live longer lives because they are not bred to grow unnaturally fast. This costs more for farmers and consumers, but it is better for the animals, the planet, and people's health, not to mention makes a delicious product you can truly enjoy and celebrate.
Yes, it costs more.
So eat less, but eat better and in alignment with your values.
To help our Hazon Seal sites explore such superior kosher meat products, enjoy the discounts below from our friends at Grow and Behold and Kol Foods. Both companies can work with your organization to match your needs with product availability in ways that are most cost effective.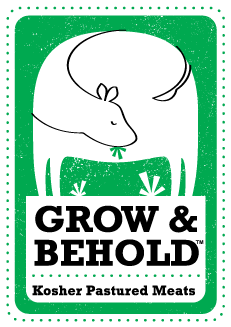 Kol Foods: Use the code HazonSealSite for 10% off your first order. Contact them for wholesale rates.
G
row & Behold
: Use the code
GBSeal
for 10% off your first order. Please contact them at 
info@growandbehold.com
for more information on wholesale pricing for events or regular meals at your institution.